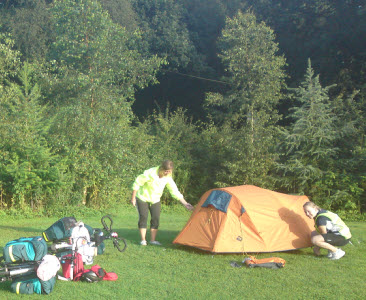 The 15 mile rule
Cyclecamp Blogpost 008
« Previous blog
Next blog »
It's starting to get late, evening is drawing in, you've been cycling all day and you're hungry. It's really no use to a cyclist that there's a wonderful campsite fifty miles away. That's why the cyclecamp campsites are just, on average, about 15 miles apart. A cycle camper can certainly go further to find a campsite than a hiker but they still need to be in range.

At cyclecamp we reckon that an average cyclist can do about 35 miles a day with a loaded bike. An experienced, fit cyclist will do a lot more but both need to find campsites in reasonable distance in order to make a ride make sense. Yes, you could cycle 60 miles to a campsite but you will need more campsites for a day's riding of say 45 miles or 65 miles. Fifteen miles between campsites gives just about the right amount of flexibility.

In some parts of Britain, there are campsites every few miles or even next door to each other, mainly in the popular tourist areas like Cornwall and the Lake District. But outside these areas, campsites can be few and far between. This means that we cannot always find the perfect campsite. But in these circumstances any campsite is usually better than none (and every single cyclecamp campsite will have a toilet and nearly every one a shower). And where we have to use a less than ideal campsite (say, one that is a bit too big or noisy) then we flag it up as a Gap Filler (more on these campsites in another Blog).

This means that you can set off on your trip knowing that there will always be a campsite within reach – not bad when you think about it!
« Previous blog
Next blog »