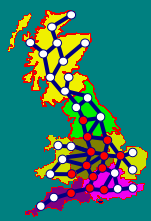 Cyclecamp - it's a network!
Cyclecamp Blogpost 004
« Previous blog
Next blog »
Many people have asked what cyclecamp is really all about. Our answer is that, above all, it's a network - a network of cycle friendly campsites. It absolutely isn't just a list of campsites: it's a carefully researched and selected network of campsites.

This means that you are able to cycle from one campsite to another knowing that there is always another suitable campsite within reach of your daily mileage. And because cyclists can be travelling anywhere in Britain, there will be a cyclecamp campsite in every part of the country, not just the tourist hotspots.

Just knowing this is a huge help to cycle campers – you can feel assured that you will arrive to find a welcoming campsite, a shower and toilet facilities. And you know that you won't have to fight your way tired and motor-less into a vast and noisy campsite full of caravans.

As the cyclecamp network develops, more and more cyclecamp campsites will be installing useful facilities for cycle campers such as a cycle shed and a car-free area. This isn't going to happen overnight. But slowly and surely cycle campers are going to get a better deal.

Far from arriving at a campsite to be told that there isn't even a separate rate for them, they will be offered a price that's right for their small and environmentally friendly footprint. Cycle campers started the camping movement - the first campers took their tent and luggage on bicycles, almost before cars were invented. The wheel has turned full circle: we are now in an age when people want to be closer to nature and to hear the birds singing.

Many people now appreciate that there is no better way to see the world than from a bicycle with a tent on the back. Cycle camping is today's new means of travel - and cyclecamp is the place to find out what you need. So, remember, cyclecamp – it's a network!
« Previous blog
Next blog »