Who we are
Cyclecamp admin page 002
« Previous admin page Next admin page »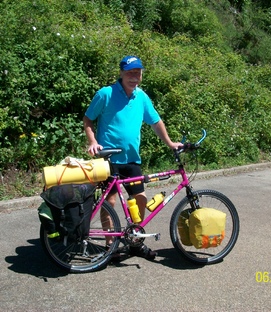 Cyclecamp is the creation and brainchild of Nick Moore who lives in Cornwall in the UK. He's a passionate believer in simple, environmentally friendly travel and an experienced cycle camper with over twenty years' of cycle camping trips in the UK, France and Spain. Cyclecamp was set up in 2011.

The cyclecamp website is brought to you by Pointscape Publishing, Nick's ethical micro-business also based in Cornwall in the UK. The website is funded through the advertising you see on it.

The key feature of the website is the cyclecamp network of cyclist-friendly campsites but it's a doorway for all kinds of useful information about cycle camping.

Cyclecamp promotes cycle camping in the UK to improve facilities for cycle campers. Cyclecamp wants to help people enjoy what the UK has to offer. That means its history, architecture, scenery and lots more. Cyclecamp wants to help people travel through this wonderful landscape enjoyably, economically and with the least impact on the environment.

Pointscape Publishing is an ethical business and its practices include:
promoting goods and services that are beneficial to society
supporting and promoting "slow tourism"
recycling all its office waste products (including electrical equipment)
supporting environmentally friendly small businesses, especially small campsites
reducing its carbon footprint and using rail and cycle as the principal means of getting around
supporting and promoting cycling in the UK
supporting and promoting the conservation of the natural and historic landscape
About the campsites

All the campsites listed in the cyclecamp network are completely independent of cyclecamp which has no direct relationship with the owners of the campsites themselves. If you have any complaints or other issues about a campsite you must take these up directly with the campsite concerned. Although we do try to keep in touch with the campsites, for operational reasons this is not always possible.

Contact cyclecamp: You can get in touch with cyclecamp by clicking here.